We're proud of being Newcastle's local taxi company and always looking to get involved with local causes around the north east. Over the years, we have been involved with numerous different charities, with the Tiny Lives Trust having a special place for LA Taxis, thanks to our founder, Rob Armstrong's strong affinity with the charity.
As well as getting involved in charity, we always try to encourage our drivers to maintain the highest levels of professionalism and integrity when out meeting the public. One of our drivers however, went well beyond the call of duty and we wanted to write an article to showcase this.
That's why we wanted to write a special post of appreciation on behalf of everybody at LA Taxis for one of our drivers, Richard Bates.
We got a Facebook message recently from Adrienne, informing us that Richard Bates, a veteran LA Taxis driver whose act of kindness resulted in effusive praise from a member of the public.
They say not all superheroes wear capes… and it's certainly the case with Richard, who went beyond the call of duty to help somebody in need. (see a screenshot of the message below).
You may have read the recent story about the young boy who was hit by the bus in Gosforth. We initially saw the story on the Chronicle newspaper though we didn't know that it was a boy who had been hit or that one of our drivers was there at the scene.
Thankfully, the boy is now expected to make a full recovery.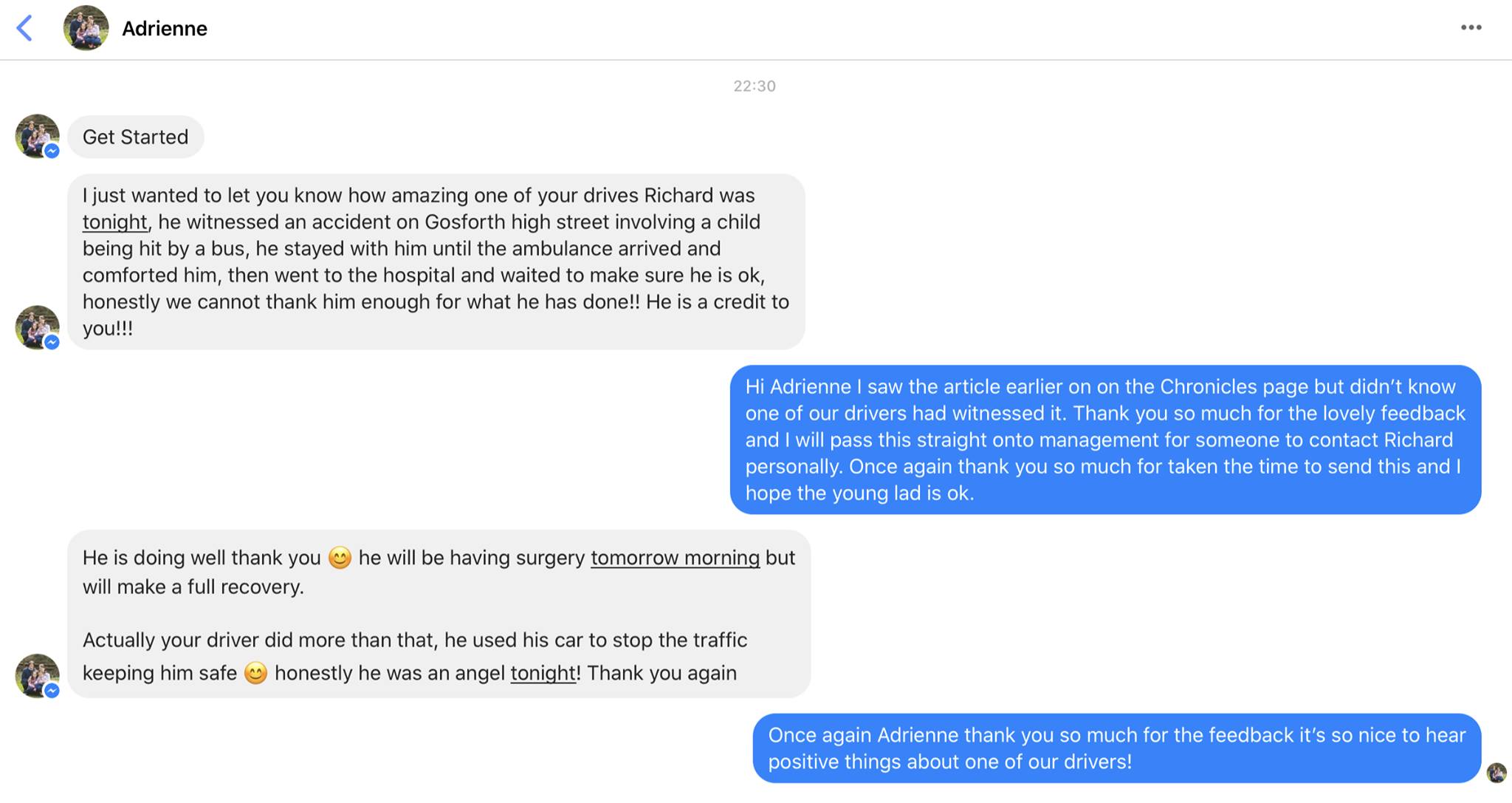 Like the title of this article says, not all superheroes wear capes!
Not only did Richard stay with the boy during the crash, he even used his own car to protect the young boy from oncoming traffic! After that, he then went on to visit the boy in hospital to make sure that he would make a recovery.
To quote Adrienne, who got in contact to tell us about Richard's deeds, "He was an Angel …"
Well done Richard for your loving act of kindness, we really appreciate having yourself as a driver and proud to have you working for us!
We have offered the young boy a free taxi ride once he leaves the hospital and according to the latest updates, the boy will be making a full recovery.